The album cover She didn't dare to release
About a year ago , my "little sister" Germanotta asked me for a picture of mine to be used for the cover of her outcoming album. I worked hard on a certain idea, but the draft that came out was not appreciated by LG and everything ended there.
Meanwhile the draft was sent to Saatchi&Saatchi to participate in a specific contest; again, no success for it. But that picture is still available on the S&S site.
Six months ago I re-considered that draft and carried out some small changes that, in my opinion, would improve it so to deserve the final transfer on canvas.
And I did that.

When ready, I showed the final picture to Gaga, also suggesting the title for her new album: "Lady Gaga pop orgasm". Unfortunately, everything was rejected again because it was considered "too trashy, too transgressive, too old-style pop, too little like her"…..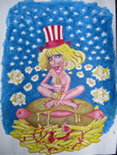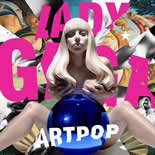 A few weeks later, I came to see Gaga new album: the cover is by Jeff Koons, (the well-known porn-star picker and famous contemporary artist) and it really has a lot of my original work, although duly censored…. Dear miss Germanotta, how bourgeois you became! No courage to introduce yourself with my cover!
And it would have cost you far far less! However I don't have it in for you, but for Jeff, who will be sued for damages by my lawyer….
And you folks, what  do you think?